Meet SamLotto, the ultimate lottery software for Windows users. With its powerful algorithms, it supports all lotto-type games and is perfect for both beginners and professionals. Say goodbye to random lottery systems and eBooks, and experience the easiest and most efficient way to play the lottery today!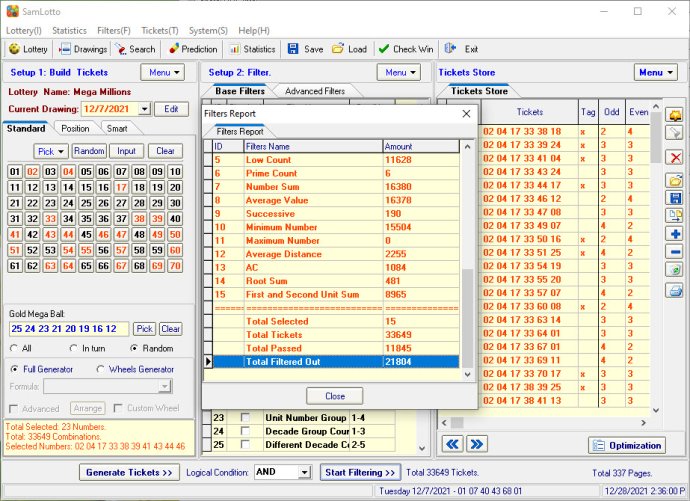 If you are someone who enjoys playing the lottery, then you may be looking for a way to increase your chances of winning. This is where lottery software can come in handy, and SamLotto is one such software that offers comprehensive features to enhance your betting experience.

Since its launch in 2003, SamLotto has been a trusted and effective tool for lottery players around the world. It not only provides filtering, search, and analysis tools but also prediction tools to help you maximize your chances of winning. SamLotto is compatible with all lotto-type lotteries, including popular ones like Powerball, Mega Millions, and many others.

For players of digit-type games that draw 3 or 4 numbers, SamLotto also offers a specialized program called SamP3P4. The software is extremely user-friendly and can be easily navigated by both experts and beginners.

Lottery software can be an effective tool for improving your chances of winning the lottery. While it cannot guarantee a win, it can use historical data, filter certain combinations, and perform complex calculations to give you an edge over other players. For instance, in a 5/52 game where 5 winning numbers are drawn from a range of 52 numbers, the odds of matching all 5 lottery balls are 1 in 2,598,960. But using filtering features provided by lottery software, you can narrow down the pool of numbers and combinations, effectively increasing your chances of winning.

The latest version of SamLotto, SamLotto 2023, added new features to make the software even more effective. These include Pattern Optimization, Offset Optimization, and a new Filter for Min Distance and Composite Count. Additionally, advanced filtering has added the function of automatically generating filter conditions. Other features include Offset +- Analyze and Drawings Trend, which supports Hits, Now Skips, Average Skips, Max Skips, and Max Successive.

Overall, SamLotto is a powerful and user-friendly software that can help you improve your chances of winning the lottery. Whether you are a seasoned player or just starting, SamLotto is an excellent tool to help you maximize your chances of winning big.
What's New
Version 13.1.0: N/A