Lotto Pro is an advanced lottery software utilizing statistical analysis to determine optimal numbers for players, enhancing their chances of winning. By eliminating guesswork and relying on past draw data, it provides a unique and controlled approach to playing the lottery, maximizing potential success.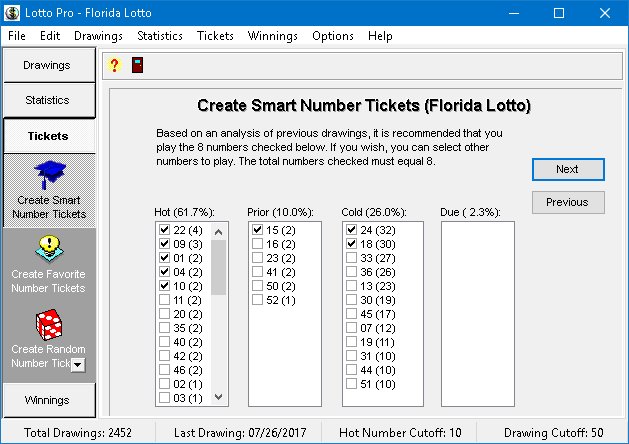 This software is a comprehensive tool that caters to all lottery games including Pick-3, Pick-4, Pick-5, Pick-6, and Pick-7, and Keno. It offers up-to-date drawing files for all United States and Canadian lotteries, as well as drawing files for countries including Australia, Brazil, Belgium, France, Germany, Greece, Hong Kong, Ireland, Malaysia, Mexico, New Zealand, Singapore, South Africa, Spain, Taiwan, Turkey, and the United Kingdom. It can even create drawing files for countries that are not listed.

The program is incredibly user-friendly with easy-to-follow wizards that guide you through every step, and online help is readily available if you ever have a question or need assistance. The smart number option uses statistics from previous drawings to assist in choosing the next winning combination, while players can also choose to play their own favorite numbers or random numbers.

For those who prefer picking their own numbers, the software offers seven statistical charts and four graphs. Additionally, the program includes over 225 wheeling systems, designed to maximize your payoffs through multiple ticket hits.

The filter option saves you money by eliminating unlikely number combinations and allows you to filter based on the sum of the numbers or the number of odd and even numbers on each ticket. And one of the biggest time-savers? The software prints your tickets directly on lottery bet slips - no need to fill them out by hand again.

Finally, the software ensures accuracy and eliminates errors by comparing your tickets with any drawing date and providing a summary of your tickets with winning numbers. It even allows you to record your winnings.

All in all, for those looking to increase their chances and maximize their earnings, this software is a must-have.
What's New
Version 8.88.0: Added the new Florida Midday Fantasy 5 game.
Version 8.88: Maintenance update that fixes some minor bugs.
Version 8.87: Maintenance update that fixes some minor bugs.