The Poker Odds Calculator is a software that displays the player's hand strength and the likelihood of winning. It also demonstrates the strengths of all possible opponents' hands and their winning probabilities/odds.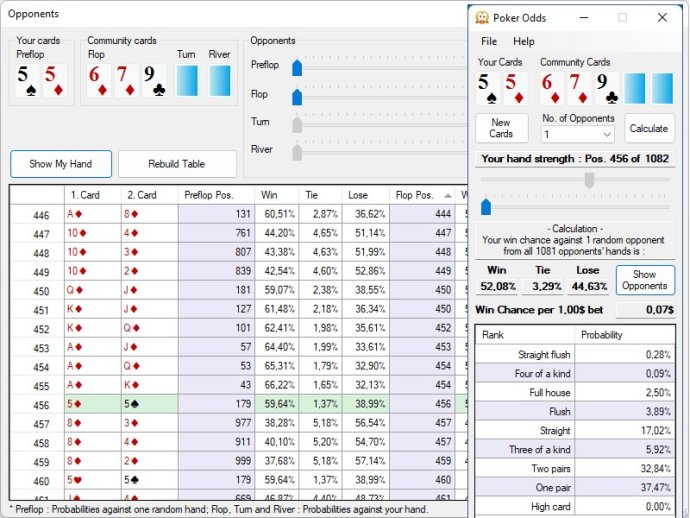 The Poker Odds Calculator is a valuable tool for serious poker players seeking to improve their game. This software can accurately display a player's hand strength and likelihood of winning while taking into account the strengths and probabilities of all possible opponents' hands.

One key feature of this software is its quick and high-performing algorithms for calculating odds, probabilities, and winning chances. It can provide a comprehensive and realistic view of any game situation.

Users can also take advantage of the filtering function, which allows them to adjust and analyze probable opponents' hands based on their strengths. This helps players to gauge their winning chances against specific opponents and adapt their strategy accordingly.

Compared to other poker odds calculators that utilize general algorithms, our calculator boasts a significant improvement in speed, with our optimized algorithm being more than 100 times faster.

Overall, the Poker Odds Calculator stands out as a top-notch software for analyzing game situations and improving the players' game. Best of all, it is available for free download.
What's New
Version 1.0.0: New Release
Version 1.1: N/A