This software offers the classic game of five card draw poker with the ability to play against sexy girls who undress as you win. It includes high definition video in fullscreen or windowed mode, with game save feature. No real gambling involved, strictly for entertainment purposes.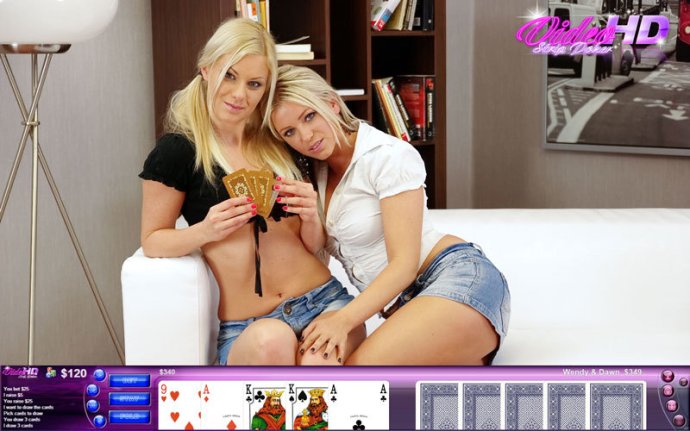 Looking for a fun way to enjoy a game of poker on your PC? Look no further than Strip Poker, featuring gorgeous girls in stunning high definition! With classic five card draw poker mechanics combined with seductive girls who will undress when you win, this game is sure to keep you entertained for hours on end.

Each girl has her own unique personality and temperament, which can make for some interesting plays. Some girls prefer to tease and dance while others like to strip quickly, giving you an exciting and unpredictable experience with each new opponent you face.

In addition, the game features high definition interactive video that can be played in full-screen or in a window. Plus, with the game save option, you can take a break and come back to continue the game whenever you'd like.

When it comes to choosing your opponent, you have plenty of options available to you. Do you prefer an Asian, ebony, or white girl? Leggy or busty? Redhead or blonde? The game allows you to select from a variety of girls, each with their own unique looks and characteristics.

As you play, the girls will flirt with you in an attempt to fool you into making bad plays. But if you're skilled enough to outsmart them, you'll be able to undress any girl you choose. You can even offer a girl a drink to make her carefree and more likely to take risks, but be prepared for the occasional refusal.

With new sexy opponents being added on a regular basis, you'll never run out of new girls to play against. And the best part? The game is all in good fun – there's no real gambling involved, so you won't lose any real money in a bet.

And getting started with the game is a breeze. Simply choose the girl you'd like to play against, and the game will handle all the downloads and setup automatically. Plus, uninstalling the game is safe and simple with no malware involved since 2002. And the game works with Windows XP, Vista, 7, 8, and 10.

Whether you're a poker pro or just a casual player looking for some fun, Strip Poker is a game that's sure to please. So why not try it out today?
What's New
Version 2.2.0.308: Hot witches as your Halloween bonus!
New girls:
Candice - self-assured lady with captivating eyes
Emma - shapely legs and large natural boobs
Darsi - round shapes, ample breasts and a nice bottom
Irina - a very friendly owner of long legs
Noa - sensual Latina: great shapes and seductive moves
Version 2.2: New girls:
Ariana - spontaneous, seductive, with passionate lips and beautiful curls
Julia - alluring gaze and sexy moves
Olivia - a playful glance, an inviting smile and a slender teenage body
Nadia - a mix of hot temper and modest image
Anastasia - cheeky, mouthy, yet sexy
Version 2.0.0.290.3: Milena: new free Easter Bunny.
Kinuski: a self-confident and incredibly sexy MILF.
Lia: brisk, cheerful, passionate Latina.
Miranda: irresistible charm and energy of an 18-year-old.
Chiara: seductive glance, Italian temper and loads of roundness.
Version 2.0.0.290.2: Eve: an extremely seductive MILF with stunning feminine attributes
Anita: incredibly long legs, fake boobs and smouldering glance
Jessica: calm personality, long legs and a great butt
Lina: slender, leggy, 30+ woman with nice, shapely boobs
Olivia: sexy plus-size model with magnificent bosom
Version 2.0.0.290.1: Aimee: sexy witch as a Halloween bonus
Sophie: a slender newcomer with a playful glance
Dina: passionate lips & a super-narrow waist
Adelle: a provocative gaze in a naughty wrapping
Michelle: a beautiful smile & a shapely figure
HD remastered Miranda, Roxanne, Xenia, Amelie, Dominique & Tatiana
Version 2.0.0.290: Zoey: self-confident MILF.
Julia: huge, real bosom, sexy bottom and 100% amateur.
Rita: girlish flair, delightful smile and fantastic shapes.
Classic's Adrianna, Julie, Anette, Oksana and Sandra are now available in HD quality.
Version 2.0.0.288: Hot and experienced Caroline has just joined the game.
Lisa - a new free Easter Bunny.
Innocent looking Camille is ready to play dirty game.
3 new remastered girls: April, Gina and Monica.
Denise and Sonia are now available in HD quality.
Sensual and always in smiles Charli.
Version 2.0.0.285: Exclusively in Video Strip Poker HD: shy & cute Eve has joined the game! She is a 100% amateur and usually doesn't make her naked pictures available to the public. So, we find it really exciting that you will not find her video anywhere else but in the Video Strip Poker HD.
Version 2.0.0.280: New girls:
Michelle, Kate, Nina and Angela from the VSP Supreme.
Astrid, Jenna, Jessica, Serena and a hot Thai girl Polly.
Inga, Cindy, Dahlia, Maya and Ashley from the Video Strip Poker Supreme Pack 4.
Leggy, busty, hot Danielle plays the game from now on!
Version 2.0.0.278: 3 girls from the Video Strip Poker Supreme are available in HD now: Olivia, Stacy and Jennifer