Create effortless and rapid slideshows by choosing a picture directory and adding your preferred song from a CD. Done!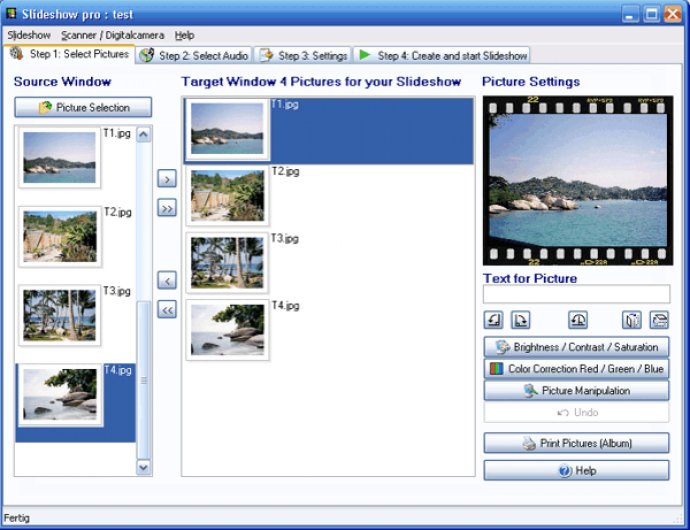 If you're in need of a software to easily and quickly create slideshows, look no further! With this slideshow producing software, all you need to do is select a directory with your pictures and add your favorite song from your CD- the rest is taken care of.

This software is compatible with PC, self-starting CD-ROM, DVD, VCD and allows for an unlimited number of pictures to be added to your slideshow. You can even add audio directly from your Audio-CD or MP3's. Plus, it comes with complete photo editing integration, allowing for easy scanning of pictures and import from digital cameras or any TWAIN equipment (TV map, Capturecard etc.)

This software comes with over 125 different slide effects for slideshows and over 50 effects for pictures. You can even print photo albums and create multiple slideshows at the same time, with each set of pictures archived with text extending the slideshow sequentially (e.g. Urlaub1, Urlaub2...).

Operating this software is incredibly easy, making it perfect for beginners. You can even build screensavers with your own photos and build HTML sides. Overall, this software is a great tool for anyone looking to easily and efficiently create visually stunning slideshows.
What's New
Version 9.6.7: New functions