Tekaba is a SIP media gateway software built on RFC 3261 for Windows operating systems including Vista, Windows 7/8/10, 2008-2019 Server.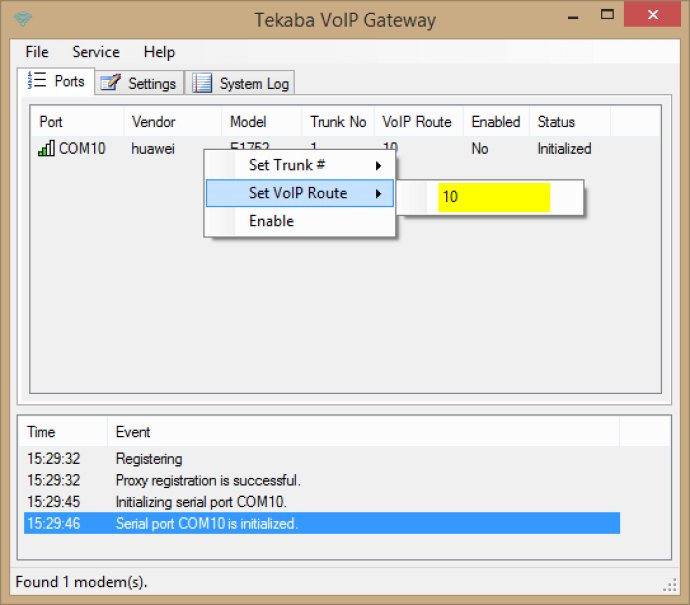 If you're looking for a versatile SIP media gateway that's easy to use, Tekaba might be the right choice for you. Based on RFC 3261, this software runs smoothly on Windows systems like Vista, Windows 7/8/10, and 2008-2019 Server.

One major advantage of Tekaba is its simple, user-friendly interface. You won't need any advanced technical knowledge to navigate the software and get started with your calls. Plus, you can monitor active calls in real-time, which can be helpful for troubleshooting and quality assurance.

Another useful feature of Tekaba is its ability to forward incoming SMS messages as SIP MESSAGE requests. Conversely, the software can also accept SIP MESSAGE requests and send message content as SMS. This can streamline your communications process and make it easier to integrate with different channels.

For telephony routing, Tekaba allows you to set rules based on source IP address, source prefix, and destination prefix. This can help ensure that your calls are routed efficiently and according to your preferences. Additionally, the software supports G.711 A-Mu law codecs, NAT traversal, and UPnP.

If you need to transfer calls, Tekaba has you covered as well. It supports call transfers using the SIP REFER method (RFC 3515), which can help you maintain continuity during handoffs. Finally, the software supports UDP, TCP, and TLS transports with RTP and SRTP, so you can choose the best protocol for your needs. Overall, Tekaba is a solid solution for SIP media gateway needs.
What's New
Version 1.3.3: Performance enhancements.