SMS Enabler: a trusted SMS gateway software that efficiently handles high volumes of incoming SMS messages. Supports GSM/3G modems, saves messages to database/computer, and generates automatic replies.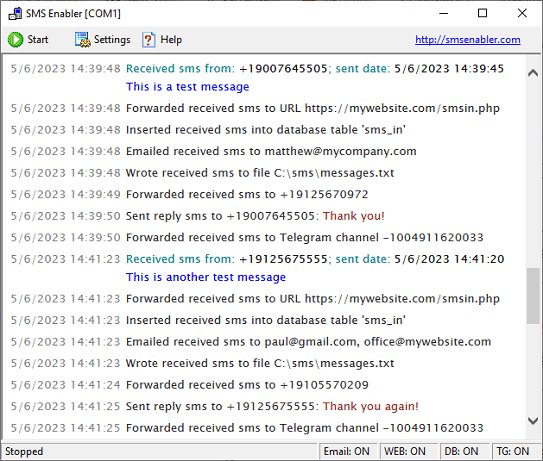 If you are in need of an SMS gateway software that can handle multiple incoming messages with ease, then SMS Enabler is definitely worth considering. This software comes with a number of impressive features that make messaging a lot simpler and efficient.

One of the standout features of SMS Enabler is its ability to store incoming messages in a database or forward them to your computer or website. This is particularly useful if you receive a lot of messages and need an organized system to manage them. Additionally, the software can work seamlessly with a GSM/3G modem or dongle that can be connected to your PC to receive messages.

SMS Enabler also offers the ability to send automatic SMS replies instantly, which can be extremely useful when you are unable to respond to messages yourself. This feature can save you a lot of time and provide your clients with a timely response. Plus, incoming SMS messages can be forwarded to an e-mail box for even more convenient management.

Another great thing about SMS Enabler is that it can receive thousands of messages and manage them easily. This makes it a great tool if you want to keep track of messages related to particular projects or clients. The software is user-friendly, so you don't need any technical knowledge to use it.

To sum it up, if you are looking for a reliable and efficient SMS gateway software, SMS Enabler is definitely worth a try. It has numerous features that make messaging simple and straightforward, and overall, it is a great product that is sure to meet your needs.
What's New
Version 2.9.0.3: N/A
Version 2.9.0: N/A