POKERobot is a free software package that combines a poker robot for automatic play and an online stats calculator for Texas Hold'em. Users have the option to customize the playing style and select from modes including full-auto, semi-auto, and odds calculator mode.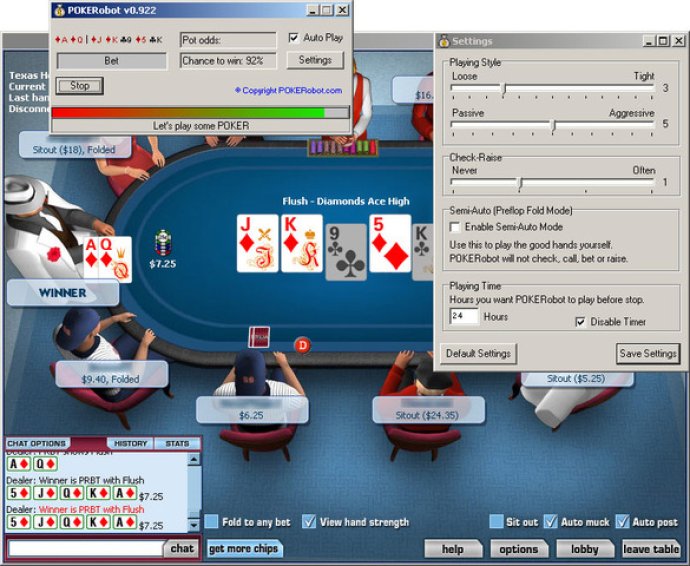 If you're looking for a tool that can help you improve your online poker game, then POKERobot is definitely worth checking out. This software is both an auto-playing poker robot and an online Texas Hold'em stats calculator that can help you make better decisions at the table.

One of the key features of POKERobot is its ability to display your chance of winning and suggest which action to take, whether it's preflop, turn, or river. You can also adjust its playing style and choose from three modes of play: full-auto, semi-auto, and odds calculator mode. If you prefer No-Limit Holdem, then you can still play in semi-auto mode.

Other features that you can find in POKERobot include its use of artificial intelligence (AI), card recognition, pot odds to call, and implied odds added to pot odds. You can also take advantage of its simulation capability, where games are randomly simulated to help you identify profitable decisions, such as check-raise, among others.

To give you a more accurate chance to win calculation, POKERobot also uses opponent modeling, player stats, and simulations. Its opponent modeling feature uses an artificial neural network for betting pattern recognition, while player stats memorizes the opponents' playing style, which can be used for implied odds and hand odds.

POKERobot is not just any ordinary software that you can use for your online poker game. It also has a feature that allows it to automatically change its playing style to fit real money/play money tables and optimize player assumptions. Its response time is also randomized to simulate an unpredictable human being, but you can set a response time setting for customized behavior.

If you prefer to play with the bot yourself, then you can use its semi-auto mode, where the bot folds all bad hands automatically and you play the good hands yourself. And if you just want to monitor your performance, you can use its watch mode, where you can still get tips/stats from the bot even if you disable autoplay.

Finally, POKERobot also has an auto-stop timer, where you can set a time limit for how long the bot should play, and a hand strength bar, where your hand strength is displayed graphically for easy monitoring. No-Limit Holdem is also supported in semi-auto mode.

Overall, POKERobot is a great tool that you can use to help you improve your online poker game. And the best part is, you can get it for free today! So go ahead and give it a try!
What's New
Version 0.958: The cards now show up correctly in POKERobot. Fixed some minor issues. .
Version 0.922: More options in settings dialog. New semi-auto mode. Semi-auto mode now works on no limit tables. .