This is a video poker game where players can cheat by marking the deck, or use tactics like getting opponents drunk or hypnotizing them. It features smart AI and full-motion video with talking opponents.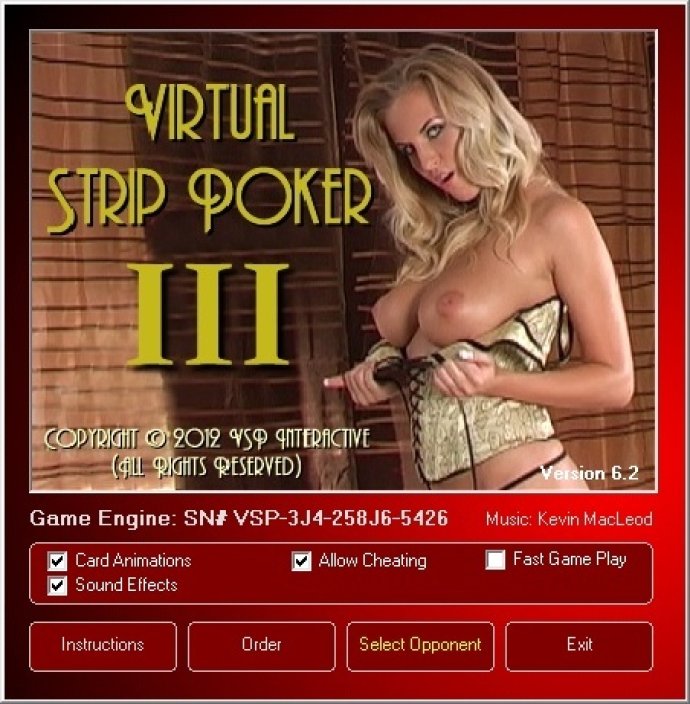 The Video Strip Poker game is an exciting game that offers a unique experience for players. Not only does it allow you to play with standard rules but also offers some cool features that you won't find in other poker games.

As a player, you can mark the deck, get your opponents drunk, or even hypnotize them. These features add to the thrill of the game and make it more exciting.

Another great feature of this game is the smart AI. This ensures that the game is always unpredictable and keeps players on their toes. The full-motion, DVD-quality video with talking opponents is also impressive and makes players feel like they're playing against real people.

If you want more opponents to play against, you can download new ones from the game's website. The added opponents come with their unique personality, making the game even more fun to play.

In conclusion, if you're looking for a fun and unique poker game, Video Strip Poker is the way to go. With its exciting features and impressive graphics, it's sure to keep players entertained for hours.
What's New
Version 6.0: N/A
Version 5.0: N/A
Version 4.0: N/A