This software allows users to host conference calls via standard or VoIP lines, connecting participants through external or office phone systems. The number of attendees is only constrained by available bandwidth.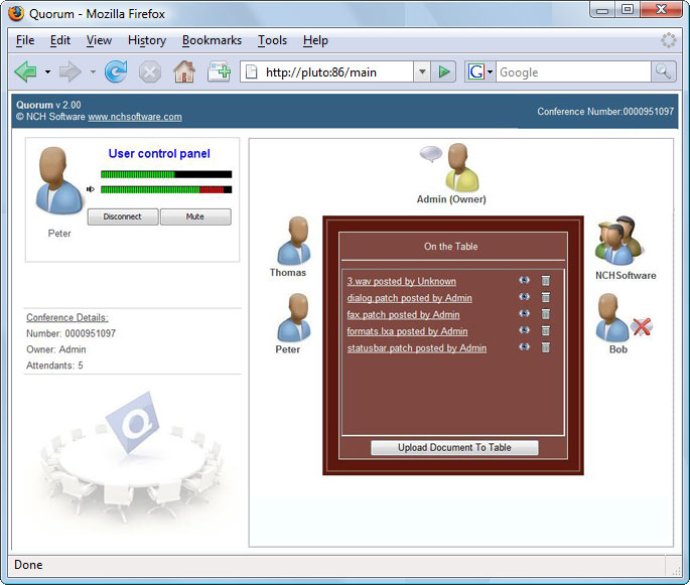 Quorum is a sophisticated phone conference server software that can run on any Windows PC. It allows callers to join telephone conferences by dialing into the server. Participants can connect to a selected conference call using standard or VoIP lines on external telephone numbers or through an office phone system. As long as you have enough bandwidth, Quorum accommodates an unlimited number of people for each conference call.

The software's user interface is user-friendly, and call creation and management are effortless. When creating a new conference, Quorum assigns and reads back the unique and secure conference number which the creator shares with each participant. Later when a person dials this number and enters the server, they will join the conference.

With Quorum, you have access to a range of features designed to make conference calls easier and more efficient. These include a web interface for managing call conferences, a virtual conference room display accessible via a web browser, and the ability to upload documents for attendees to view.

The software can run on almost any Windows PC, support unlimited simultaneous conferences, and can connect to an ordinary phone line or analog PBX extensions directly using telephony devices. It is also possible to connect one Skype number using the Uplink Skype to SIP Adapter.

Quorum makes allocating new conference IDs over the phone a breeze, and users can join any predefined conferences by entering the assigned conference number. Voice prompts are easily customizable via the user interface.

Quorum can make VoIP calls using free VoIP SIP service providers to save on call costs. It installs quickly on your PC in just a few minutes, and its straightforward user interface makes day-to-day business conferencing a breeze.
What's New
Version 2.03: Virtual Conference Room display, new web control panel, support stereo streaming