Android Bulk SMS Sender is a PC tool that enables users to send SMS to multiple mobile numbers simultaneously, through their connected Android phones. It supports attachment and customization of SMS for a more personalized messaging experience.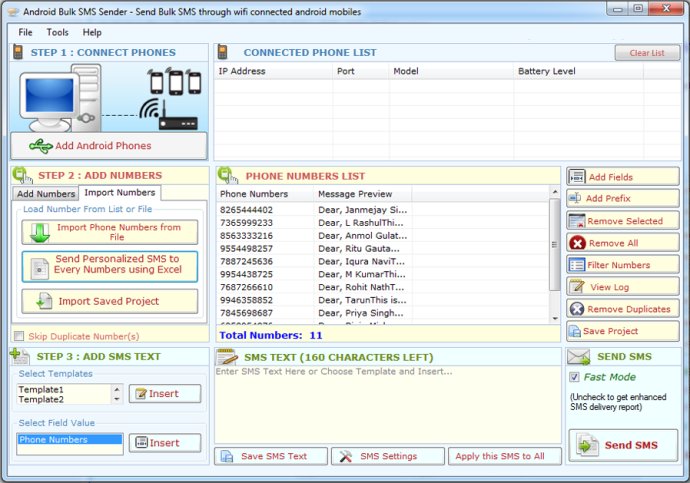 I recently had the pleasure of using Android SMS Sender software and I must say, I was quite impressed with its capabilities. This bulk SMS software works as a bulk SMS sender to send SMS to thousands of recipients directly from your personal computer or laptop.

One of the best features is the ability to connect your Android Phone to the PC for sending SMS to a vast number of recipients using multiple phones with TCP/IP connectivity. This provides freedom from any restriction placed on the number of mobile phones you can use.

Android Bulk SMS Sender software is known for being one of the best platforms for sending bulk SMS PC to mobile. It offers various functions and customization options to make the SMS more personalized. Various fields such as mobile number, name of the recipient, etc. can be customized according to the sender's preferences.

Another fantastic feature is the ability to select the Android Phone through which the SMSs are to be sent once the device is connected to the software. This software allows users to send SMS in a group, adding country codes as a prefix to the recipient's number for easy identification.

The software is packed with features, some of which include delayed delivery options for SMS, multi-lingual support (Hindi, Gujarati, Urdu, Punjabi, Bengali, Tamil, Telugu, Kannada, Malayalam, German, French, Italian, Japanese, Arabic and many more), and the ability to import mobile numbers from files stored on the hard-drive.

Overall, Android Bulk SMS Sender software is a great tool for anyone looking to send SMS messages to multiple recipients directly from their personal computer or laptop. It is compatible with all Android mobiles and does not require an internet connection to send SMS.
What's New
Version 5.0.1.11: Windows 10 Support
Better Performance
Smaller Bug Fixes